Feb23

Rachael Plutzik (Vocals and Guitar)
Lyrics: Ellie Sherwin and Rachael Plutzik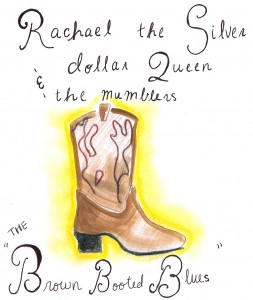 Recorded and engineered by John Bergeron at Green Street Arts Center Recording Studio
Biographies
Rachael "Silver Dollar Queen" Plutzik-
This soulful, blues diva has had a passion for singing ever since she could remember. Although she has never had any official training in music, Rachael believes her life experiences are enough to get her humming away. As for the guitar, she is new to the instrument, having just started learning a couple of months before producing this single. But again, according to the singer, "You don't need any professionals or expertise to tell you how you feel."
Music, emotion, passion – they all come from the heart, and that is exactly where Rachael "Silver Dollar Queen" sings from: "All I need are my blues and I got a story worth singing about."
The Mumblers-

The Mumblers, consisting of Lauren "Firey Giggles" Nadler and Ma' Ellie Sherwin got their name from their small (but unique) addition to the ending of this track. Both gals are from the streets of New York City, so it is no wonder that "mumbling" the blues is second nature to them. They sure got a lot to complain about – and they ain't afraid to show it.
Lauren takes a bashful, "giggly" approach to life, but judging from the color of her hair and her spirit, she's a ball of fire not to be reckoned with.
Ellie, on the other hand, is not afraid to say it how it is – a testament to what she likes to call "her Brooklyn roots."
Although independent and proud young women, unique in style, Lauren and Ellie make a wonderful contribution to Rachael, their soul-singing sister. When these three ladies come together in the studio, one is sure to be in the presence of some heavy duty emotional relief…that little mic, that "golden shrink" of theirs is no stranger to hearing some laughter, some attitude, and a whole lot of noise.
1 Comment »2011: spring (midterm)
One Response to "Brown Booted Blues (I sure ain't stayin home)"
Lauren Nadler Feb 23rd 2011 at 11:43 pm 1
Leave a Reply
You must be logged in to post a comment.